How Great Storytelling Lingers in the Mind
Shirley Jackson's ominous foreboding; thought stickiness; living rent-free in your head; Amanita phalloides, the death-cup mushroom; introspection; meaning
A great writer can create a reading experience so sticky that it embeds itself in your thought, making it difficult to shake off. Great writing sticks in our minds, and pops up in your thoughts for quite a while after you've put the book down. This 'stickiness in thought' is something a truly great writer knows all about, and really plays on: finding a hook that sticks into you, and which isn't so easily freed from your thoughts.
There's a more common experience of this kind of thought-lingering: if you're on Twitter, you'll find a common tweet starting something like 'I often think about' followed by something vaguely wistful that has lingered long in the tweeter's mind. Similarly, the phrase 'living rent-free in your head' catches the sense of this thought lingering as well - some things just linger in your mind for prolonged periods of time. You find yourself turning over a conversation or interaction over time, revisiting it, trying to make some sense of it.
Openers Matter
One of the greatest opening paragraphs for a novel ever must be Shirley Jackson's opener for 'The Haunting of Hill House':
"No live organism can continue for long to exist sanely under conditions of absolute reality; even larks and katydids are supposed, by some, to dream. Hill House, not sane, stood by itself against the hills, holding darkness within; it had stood so for eighty years and might stand for eighty more. Within, walls continued upright, bricks met neatly, floors were firm, and doors were sensibly shut; silence lay steadily against the wood and stone of Hill House, and whatever walked there, walked alone."
What a cracking and ominous opener – it's got dread and foreboding dripping from it; a curious negation ('not sane', instead of the cheap fix provided by 'insane' – read the sentence again, and substitute 'insane' for 'not sane'. It doesn't work anywhere as well, does it?). And there's so much more. What's a katydid? Some sort of bird, obviously, but not one that you can easily visualise - so you linger a moment on the noun. And the sentence then changes direction: apparently, katydids dream! Really? What's that about?
And then you're off again - but this time to a house, which is 'not sane'. It's a sort of non-sequitur, or a kind of a category error - why would a house be sane? Unless the house has a sort of sentience, or has some sort of a sentient entity wandering around it. This is a great narrative trick: Jackson has pulled you off kilter into her way of thinking.
I was a kid when I saw the first movie version of this book, late one night when my parents were out. It scared me senseless – it lingered in my thoughts and dreams, and I couldn't sleep afterwards: it was the first time I remember being scared awake, fearing sleep, worrying about what thoughts and dreams might come when I closed my eyes. The sounds and images were all-too-real for my fevered child's imagination, and I was so afraid because of what I might find myself dreaming.
And Jackson was really great at this kind of writing - somewhat oblique, evocative, implicitly threatening, making you uncertain of your footing, with everything slightly off-kilter.
Here's another fab opener, from Jackson's 'We Have Always Lived in the Castle':
My name is Mary Katherine Blackwood. I am eighteen years old, and I live with my sister Constance. I have often thought that with any luck at all I could have been born a werewolf, because the two middle fingers on both my hands are the same length, but I have had to be content with what I had. I dislike washing myself, and dogs, and noise. I like my sister Constance, and Richard Plantagenet, and Amanita phalloides, the death-cup mushroom. Everyone else in my family is dead.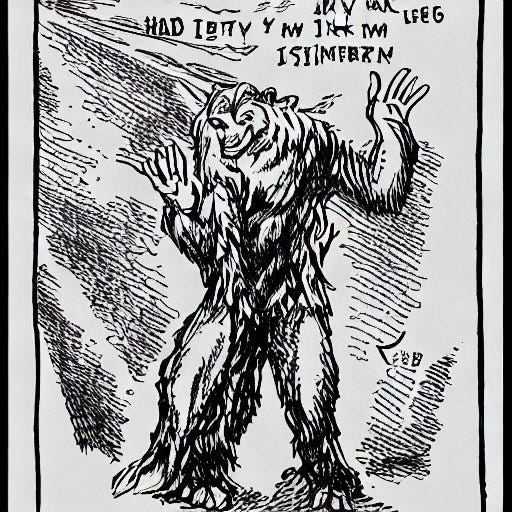 Did your jaw drop at that last line? Mine does – every time. Jackson is a master of a type of writing that is darkly evocative, and critically, which lingers in the mind after you've read it. She sets you up to take a hit on the chin, by seemingly misleading and misdirecting you - but no - she is going to move you in a direction you just weren't expecting at all.
'I have had to be content with what I had' – this sentence promises so much, but it tells you nothing. What did she have? Not being a werewolf, for sure. You must read on to discover what she had. Why does she dislike washing herself? And who is Richard Plantagenet? I think it's possibly an even greater opening paragraph than Hill House.
Jackson's books are superlative, of course: short, pungent, ominous, making you feel ever so slightly askew, transported to a different reality.
Jackson's opening paragraphs show the power of a story to 'capture the course of cognition', where a powerful narrative directs the course of your thought, and comes back repeatedly to haunt your thinking – especially during moments of mind wandering.
I'm sure you've experienced an alternative version of this - the so-called 'ear worm', where a song fragment plays on and off in your head - sometimes for ages. Ear worms can be really annoying (the trick is to indulge them, apparently, and try and sing them - if only to yourself - to their conclusion, or just listen to the whole song to the end; or just chew gum!).
Bad is stronger than good
'Bad is stronger than good' is the striking title of an especially-important paper by Roy Baumeister and his colleagues (open access version). 'Bad is stronger…' makes a straightforward claim: bad events tend to stick with us more than good ones, not just in major life events like trauma, but also in everyday things - close relationship outcomes, social network patterns, even how we learn about the world ('Don't eat those yellow berries! They'll kill you!'). Emotions, feedback, information, self-definitions, first impressions, and stereotypes are all affected more by negative things than positive things. And we all know unpleasant or confrontational conversations can linger in our minds, disturbing us for hours or days afterwards.
The key point Baumeister and his colleagues make is that certain things linger in our thoughts, usually bad things, and there's an asymmetry in what lingers - the bad stuff lingers more than the good stuff (like the lingering fears I had for hours and probably days whenever I thought about watching Hill House as a kid).
And that title lingers in your mind too - what a great example of thought capture!
How is this 'thought-lingering' possible?
Before we discuss modern approaches to 'thought-lingering', let's detour through the historic route to understanding our internal mental processes - 'introspection' – describing as best we can what is going through our heads, or what was going through our heads, or even what might go through our heads at some future time. After which, we must try to put into words what we are thinking and feeling.
Introspection – looking inward on our mental lives as observers – was introduced into experimental psychology by Wilhelm Wundt. Wundt, who founded the first psychological laboratory in 1879 in Leipzig , introduced introspection as a method for studying mental lives. He trained people to observe their own thoughts and feelings, as objectively as possible, and then report them to the experimenter during differing tasks (such as naming colors, recalling past events, reading passages, and counting).
Wundt required[i] that the trained Introspectionist should act as an observer of their own mental lives, writing (somewhat opaquely to modern eyes) that:
'1) the Observer must, if possible, be in a position to determine beforehand the entrance of the process to be observed;

2) the Introspectionist must, as far as possible, grasp the phenomenon in a state of strained attention and follow its course;

3) Every observation must, in order to make certain, be capable of being repeated several times under the same conditions,

and 4) the conditions under which the phenomenon appears must be found out by the variation of the attendant circumstances and when this was done the various coherent experiments must be varied according to a plan partly by eliminating certain stimuli and partly by grading their strength and quality". 
Introspection involves observing and describing the stream of thoughts and feelings through your mind, without judgment. Introspection was popularised by both Wilhelm Wundt and William James, who introduced the phrase "stream of consciousness." James used the metaphor of dropping a bucket into the 'stream of consciousness', and then describing the contents, as a way to understand introspection. Today, introspective approaches are a core element of certain types of psychotherapy, where the client is encouraged to talk about their feelings, thoughts, memories, etc.
Introspection also had an indirect influence on the development of novels in the early 20th century, where story-telling became focused on the "interior monologue" of the protagonist (Henry James, who pioneered the interior monologue in novels, was, not coincidentally, William James' brother). The modern-day call to 'mindfulness' - to be a non-judgmental observer of your own mental life - is another modern-day echo of introspection.
Narratives remain in your thoughts
A recent and brilliant paper focuses on 'thought lingering' evoked by effective story-telling: 'Narrative thinking lingers in spontaneous thought' (open access - just click the link): this paper uses a very clever manipulation involving a short story (by John Cheever)
.
The authors find that reading coherent stories causes the themes and details to stick in people's minds for longer, compared to reading scrambled versions of the same text. This was seen in multiple stories, and the effect was stronger when participants focused on the emotional content (rather than on the spelling, or the font the stories were presented in). The same effect was found when people created a story from a list of words, but not when they just focused on the words themselves. Overall, how much a person felt "transported" by the story while reading was the best predictor of how long the story would stay in their mind.
Deeply-processed stories which we can extract meaning from linger longer in our thoughts, it seems. You can show this by probing participants' spontaneous thoughts using free word association (before, and after, reading a short story - they type these into a textbox on the computer). The story narrative remains in the participant's thoughts, as measured by self-report, and by changes in the participant's free association thoughts. Participants were asked what they were thinking about before and after reading, and reading affected the kinds of thoughts they described. Also, people remembered things better when the text was easy to follow and made sense as a whole story. Finally, people who felt like they were really in the story remembered it better than people who didn't.
Thus, it seems like our thoughts in the present moment are connected to experiences we've had before - experiences that we've thought about in a deeper way, as part of a bigger story about ourselves.
What happens in the brain?
I'm going to make a bit of stretch here to another paper, which focuses on how the brain has widely distributed semantic maps of meaning. I've argued here many times that our memory does not duplicate past events and sensations, but instead reconstructs the original experiences you've previously had.
Jack Gallant and his colleagues have created a semantic map of the brain, showed widespread, and differing, areas of the brain respond to linguistic information. And they find there are large differences between these 'maps of meaning', compared to maps for visual information (here's an accessible account).
In essence, they used brain imaging to compare brain activity while participants watched (i) silent movies; (ii) listened to narrative stories. Movies evoked activity in visual areas of the brain specialized for semantically-specific regions, and stories evoked activity in brain areas immediately adjacent to these visual areas. Thus, there are two networks (one for visual stories; one for narrative, and these networks came together at the edge of visual areas, suggesting the two networks form a contiguous map for meaning in the human brain.
From the abstract:
… we compared semantic maps obtained from two functional magnetic resonance imaging experiments in the same participants: one that used silent movies as stimuli and another that used narrative stories. Movies evoked activity from a network of modality-specific, semantically selective areas in visual cortex. Stories evoked activity from another network of semantically selective areas immediately anterior to visual cortex. Remarkably, the pattern of semantic selectivity in these two distinct networks corresponded along the boundary of visual cortex: for visual categories represented posterior to the boundary, the same categories were represented linguistically on the anterior side. These results suggest that these two networks are smoothly joined to form one contiguous map.
My stretch is straightforward: thought lingering induces activity across widespread areas of the brain, as compared with straightforward visual (or indeed other) stimuli. Things that are meaningful to us in some way are processed more deeply, and evoke more widespread associations throughout the brain, as compared with things that don't matter as much.
I'm sure a brain imaging version of Bellana's study will map well to Gallant's findings. I'm also certain that brain activations to thought lingering concerning bad things - broadly, as opposed to narrowly, defined - will be more widespread than for thought lingering for good things. These activations are likely to be much stronger in people with 'high-trait anxiety' - where people ruminate excessively about their worries, and are more sensitive to feelings of threat and danger from their environment.
Something is more likely to stay in our memory when we've thought about it a lot, and we've understood what it means in the entire context it happened in - we've reflected on, and absorbed it in some deep way, rather than just paying some superficial attention, glancing up from our smartphones, barely even getting a sense of how things look or sound.
We think through what happened - and a great writer makes you think - a lot. And especially so when the book is no longer in your hands, and your thoughts wander back to what you've been reading.
And I'm sure Shirley Jackson would smile, knowingly, having intuited this years ago…
---
[i] Asthana, Hari Shanker (2015). "Wilhelm Wundt". Psychological Studies, 60, 244–248. doi:10.1007/s12646-014-0295-1
Bellana, B., Mahabal, A., & Honey, C. J. (2022). Narrative thinking lingers in spontaneous thought. Nature Communications, 13(1), 1-16.
2
Participants either:
(i)                  read a c. 2,500 word innocuous short story;

(ii)                read the same story with either word order, or sentence order, scrambled;
Day 1: participant consent is requested, and selected questionnaires administered.
Day 2: participants complete simple self-paced arithmetical problems, and an unprimed free association task: they close their eyes for 20 secs, afterwards describing the images and thoughts during this time. Subsequently, they were randomly allocated to one of three conditions with exposure to differing stimulus materials to examine thought lingering and cognitive capture.